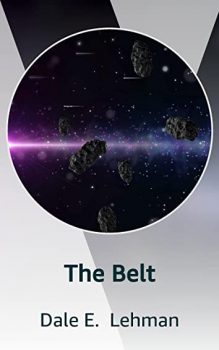 An outlaw scientist and his graduate students make a stunning discovery that pits them against the ruthless forces seeking political and economic domination of Mars and the asteroid belt. Across the frigid wastes of the red planet and on the airless rocks of the Belt, Dr. Miguel Hernandez and his young protégés fight for life, sanity, and legacy.
Episode descriptions and general information are below. Launch yourself into The Belt today!
Episodes
Real Fire. Mercenary Alejandro Carrasco is hired to destroy a hydro station on Mars but suspects a trap. Lowell Colony Mayor Andre Rand declares exobiologist Dr. Miguel Hernandez outlaw. Miguel's protégés Ricard Fulbert, Quan Linh, and twins Petrina and Martin Ulegna are detained before they can escape Mars. First lady Carmen Rand breaks off her affair with Miguel.

No Place to Hide. En route to the Belt, Alejandro Carrasco realizes the ship he's been given in payment for his work on Mars may be sabotaged. Quan Linh, Richard Fulbert, and Petrina and Martin Ulenga are questioned under tortured by Lowell Security. Mayor Andre Rand confronts his wife Carmen about her affair with Dr. Miguel Hernandez. Miguel escapes into the Martian wilderness where he has friends and meets Jake, a rogue who provides him transport.

Decisions. Released from detention, Ricard Fulbert and Quan Linh decide to leave Mars for Ganymede, where they can continue their research. Post-torture, Linh is crippled by episodes of terror. Petrina and Martin Ulenga insist on finding and assisting Dr. Miguel Hernandez. Jake takes Miguel the wrong direction. Alejandro Carrasco is recruited to spy Ricard and Linh. Mayor Andre Rand reveals to Carmen that he has her under surveillance.

Scattered. Patrina and Martin Ulenga decide to question Miguel's friend and colleague Dr. Gene Lloyd, but Martin has developed rages following the torture. Petrina hints that she, too, is impaired. On their way to the Belt, Ricard Fulbert and Quan Linh encounter an overly-inquisitive fellow passenger, Bob Wreyford. Jake delivers Miguel to Nessa O'Clery, leader of smuggling and illegal mining operations, who forces Miguel to work for her.

Fakes. Petrina and Martin Ulenga meet with Dr. Gene Lloyd, who tells them they've been shot up with nanobots used to track them. Ricard Fulbert and Quan Linh arrive on Itokawa Station in the Belt. Nessa O'Clery shows Miguel the fate of those who seek to escape. Alejandro Carrasco obtains information on Ricard and Linh from a contact in the Space Force.

Countermeasures. Carmen Rand arranges countermeasures to her husband Andre's spy cameras. Alejandro Carrasco poses as Dr. Craig Snyder to get close to Ricard and Linh. His mysterious employer instructs him to sell them into slavery. Petrina reveals her post-torture impairment: she can't focus her thoughts. Together, she and Martin devise a way to communicate without being detected, and Martin hatches a scheme to defeat the nanobots in their bodies.

The Edge of the Precipice. Quan Linh realizes she's emotionally drawn to Ricard Fulbert. Bob Wreyford, the inquisitive passenger they met earlier, shows up to provide logistics support for their move to Ganymede. Martin recruits his old friend Samuel Lasker to hack into Dr. Gene Lloyd's accounts. A Lowell Colony tracker on the trail of Dr. Miguel Hernandez is killed by Jake and Nessa O'Clery's security team.

Playing It Safe. Hitomi, Alejandro Carrasco's mysterious employer, visits Andre Rand to negotiate an agreement for security outside the colony. Samuel Lasker provides Petrina and Martin devices to jam transmissions from the nanobots. Ricard and Linh try to hide by taking jobs in Itokawa Station's farming section, but Alejandro finds them.

Dangerous Liasons. Jake reveals to Dr. Miguel Hernandez that he wants to kill Andre Rand. Miguel offers an alliance. Carmen Rand tests her countermeasures against Andre's surveillance of her home. Andre Carrasco sells Ricard Fulbert and Quan Linh into slavery. Samuel Lasker turns over to Martin and Petrina evidence of Miguel's affair with Carmen.

In the Dark. Hitomi receives instructions from her powerful and shadowy employer. Ricard and Quan begin life as indentured servants in a mining operation on a small asteroid. Petrina and Martin confront Carmen Rand, who warns them off trying to find Miguel.

Some Manner of Freedom. Alejandro Carrasco feigns retirement on Vegas Station to conceal his intentions from Hitomi. Petrina learns to focus her thoughts and realizes Miguel must have fled into the wilderness. Linh figures out how to control her terrors. Ricard proposes marriage. Miguel figures a way to escape from Nessa. Nessa asks Miguel about recruiting Carmen Rand's help in concealing her operations.

Not What It Seems. Security Subcommander Leah Leaf targets Petrina and Martin Ulenga for execution. Alejandro Carrasco returns to Mars to locate Dr. Miguel Hernandez. Andre Rand summons Carmen to a state dinner, where they meet the shadowy financier Celia Fundichely, who asks to be given the Utopia region as a secure refuge from her enemies.
Probing. Searching for Dr. Miguel Hernandez, Twins Petrina and Martin Ulenga get stuck in a sandstorm. Quan Linh and Ricard Fulbert plot an escape from their enslavement. Alejandro Carrasco finds Nessa O'Clery's hidden base and reveals himself to be a friend of her late father. Carmen Rand, rattled by her meeting with mysterious financier Celia Fundichely, keeps close to her husband.
Complications and Revelations. Dr. Miguel Hernandez attempts to escape from Nessa O'Clery and finds himself captured by another party. Hitomi offers Petrina and Martin Ulenga a questionable bargain. Ricard Fulbert and Quan Linh break free of enslavement but land in an embarrassing predicament. Alejandro Carrasco reveals to Nessa O'Clery a family secret.

How It Works
The Belt is available on Kindle Vella, but before you run away screaming, let me explain how it works. First, you don't need a Kindle device to read Kindle Vella stories. In fact, they aren't yet available on Kindle devices. Go figure. You read Vella stories on the Amazon website or on the IOS app.
Now, what's the cost? Minimal. The first three episodes are free, so you can try before you buy. After that, you purchase tokens from Amazon and spend them on Vella episodes. However, if you're new to Vella, Amazon will give you 200 free tokens. Episodes cost 1 token per 100 words and can range from 600 to 5,000 words. That means they can cost between 6 and 50 tokens. Most episodes of The Belt cost around 30 tokens. I calculated it for you: with the three free episodes and the 200 free tokens, you can read the first nine episodes of The Belt without paying a cent.
After that, tokens are available in blocks, starting at just $1.99 for 200, with larger blocks available. So the cost isn't at all painful.
What are you waiting for? Launch yourself into The Belt today!